Bell Work
Math- Students learned how to add with 9.
Health- Ms. Preece
Recess
French- Ms. Murdoch
Arts Ed/Science- song of the week
Lunch
Carpet Time
Buddies- Today we started a new unit where the grade 2's got to create their own cereal, toy, candy, or clothing. The grade 7/8's helped them design these items, and next class we are going to create an advertisement for them!
Skating- The kids had a blast. Even the children who had never skated were trying their best and having a good time. Thank you SO much to the parent helpers that were there and able to help tie skates! Next skating is on Feb. 6 at 1PM. Kids can bring sticks/pucks for that ice time if they want.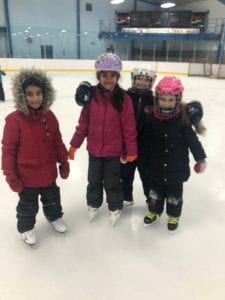 Clean Up
Home Time
*I will post this all week, just in case anyone misses it. We are welcoming parent helpers if you would like to come and help in the classroom. Please sign up here.