Circle Time
Arts Ed- The students worked on their AB and ABC patterns through music!
Students also worked on their assembly song.
Here is the song our students are singing in the assembly on Sept. 28th at 10:45.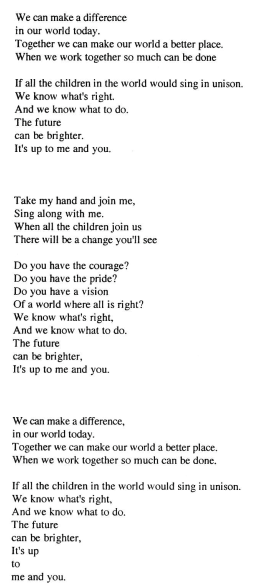 Recess
Health- Mr. Olynyk
Math- Practiced two math stations.
Lunch
Carpet Time
Daily 5- Today three students read their parent responses to the class from News Duotangs.
Read to Self- We got to 37 seconds of stamina for read to self. Ha. Not great, but we will keep working at it!
Journals- Today we wrote in our journals. The prompt was, "If I was an animal, I would be…" There were some great responses!
Recess
Phys Ed- Mr. Olynyk
Music- Ms. Hendry
* This is the book fair letter explaining the book fair happening next week!
2018 Fall Book Fair Letter online-2671ptd
**Star Words of the Week Sept 10th-14th (Ms. Ausmus)
difference                              unison
world                                      right
future                                     courage
work                                       pride
together                                 change
children                                  better
***Book orders are due this Friday! You can submit online if you'd like- it's really easy!