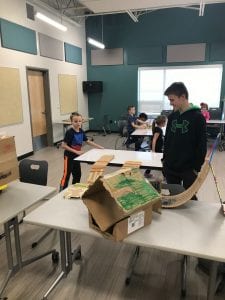 Bell Work
Math- Doubles game. Students have homework today (Not yesterday. My apologies.)
Health- Ms. Preece
Recess
French- Ms. Murdoch
Arts Ed- Students learned their song of the week
Christmas charades
Lunch
Carpet Time
Buddies- Students showed off their Makerspace creations today. These creations are coming home with them. (Sorry, I know they are really big!)
Recess
Staff vs. students volleyball game.
Clean up
Home time
*Tomorrow is Sparkle Day.
**Thursday we are going to be watching the movie of Lion the Witch and the Wardrobe. Students are allowed to bring a blanket and stuffy that day. There are a couple scarier scenes, but we have talked about this a lot in class already. Children are allowed to leave the room if they are finding a part scary, and they have read the book so they know what will happen which I have found helpful in other classes. I have shown this many times to grade 1 and 2 classes I have taught, and I have never had a problem, so I don't foresee any problems this year either.