The students came into class today and the room had been transformed into The Doll People doll house!
We painted our own wooden dolls this morning!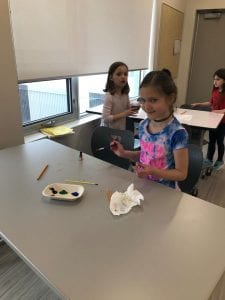 Recess
The students chose a name for their wooden doll, and we made an acrostic poem using the doll's name.
Our human, Kate- kept coming into the dollhouse to play with the dolls (us).  So we had to run back to the last spot she left us, and pretend that we were just regular old dolls. Not LIVING dolls!
Lunch
In the novel, Auntie Sarah went missing, and she happened to go missing this afternoon too! We had to do a lot of different things like Tangram puzzles, addition, reading fluently etc. to get a secret code, and find clues to eventually find her!
Storyboard prep- The students are in groups, and they are going to be making up their own stories. Tomorrow morning the students will be video taping their own stories with their own wooden dolls. Don't worry, we will send them to SeeSaw so you can see them!
Clean Up
Home Time
*Tomorrow is SCC Pizza Lunch.